Now that's a great idea! It wasn't exclusively designed for email marketing, but I am sure it perfectly worked its charm, especially when the lockdown rules relaxed over the summer. :) Still, no matter how brilliant some creatives are, if you send them to the wrong people, you simply ruin their magic.
50% of your email marketing campaign's success depends on the quality of your database.
Your subscribers' list is the most valuable asset of your business. It should include both existing customers and the people who know you, like what you do and want to hear from you regularly.
Let's see how you can build a valuable database to get the best out of your creatives, especially now, when email marketing engagement rates are higher than ever.
Average email benchmarks for all industries (in the USA and Europe) during pandemic (Source: Campaign Monitor/April 2020)
Average open rates: 21,2%
Average CTR: 3,10%
Average Click-to-Open Rate: 14,6%
Average unsubscribe rate: 0,14%
Average bounce rate: 0,86%
Share something valuable
Your database is usually the result of all your marketing efforts combined. There are many ways to acquire email addresses and subscribers on a website, but things work best when you offer some value upfront in exchange for contact details.
Especially in B2B projects mastering the art of intent allows you to develop relevant content at the right moment. You can choose to wrap it up and offer it in different formats such as blogs, white papers, e-books, research reports, webinars, free courses, demos, or free trials. When people see worth in them, they usually become willing to return some of their personal data and eventually subscribe to your newsletter.
Create eye-catching opt-in forms
SMART forms that work like lead magnets are never standard. It helps always to adapt them to perfectly match each piece of content they accompany on your website. In the end, they are nothing but an invitation to dialogue. Being concise and clear in terms of what you expect the viewer to do and what will he/she receive in return increases the chances that people will react and respond.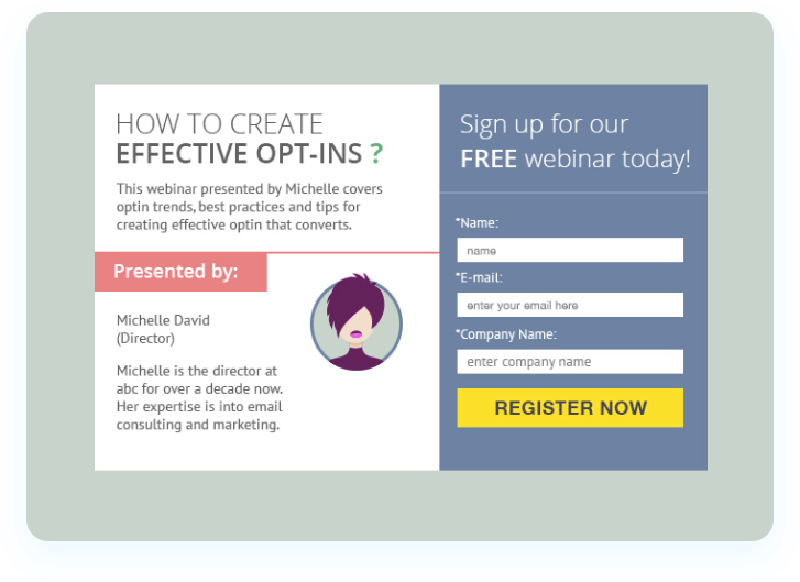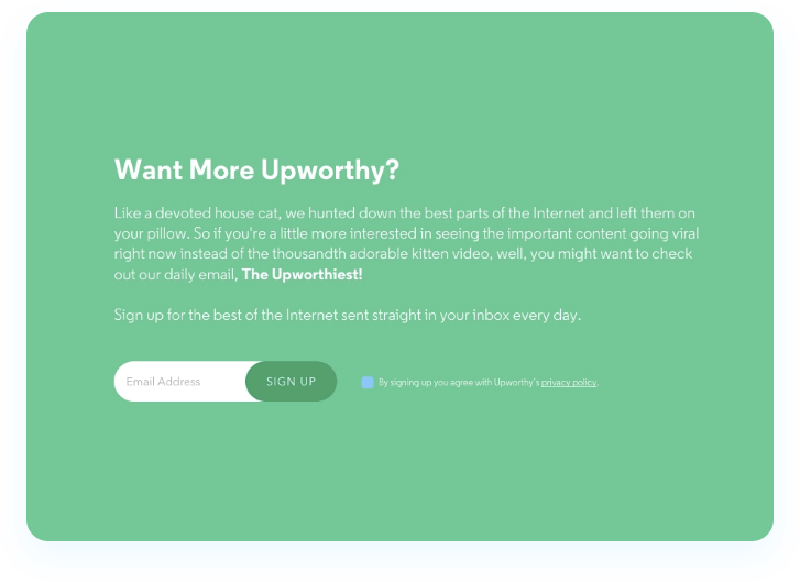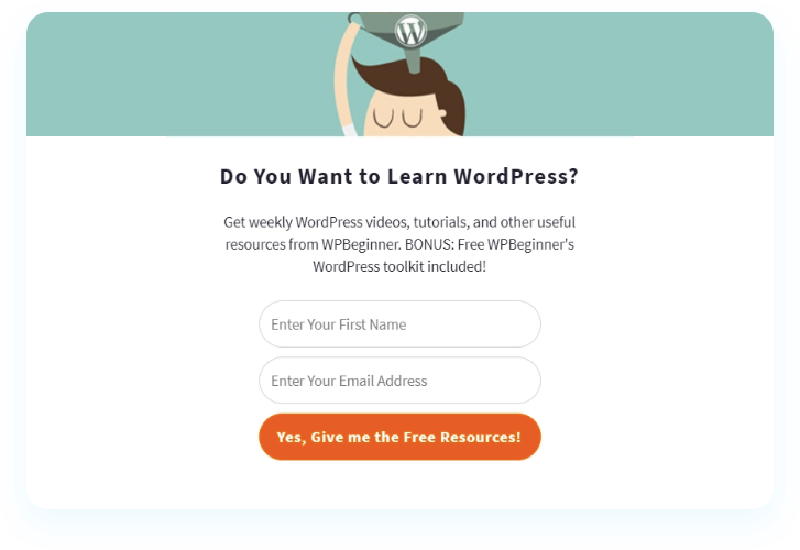 It's always a good idea to include a minimum number of fields in the first place and ask for nothing but the name and the email address. That's basically all you need to start a conversation. Any extra field added to your form can decrease your conversion rate by 11%. Ask yourself if you really need this. In the end, you'll have plenty of time to collect more data about your prospects while getting to know them the same way you would do in real life.
Develop healthy cooperations with third parties to avoid privacy complaints
You know that your lists are top quality and clear when you receive less than 0,1% of spam complaints per 10.000 emails.
It's 100% guaranteed that the spam count is low when you send relevant content to people who specifically expressed their interest in receiving information from you. On the contrary, the spam count increases when sending emails to contacts you purchased from third parties. Even if they are still available on the market, bulk lists for sale are not GDPR compliant, and the ESPs (Email Service Providers) forbid you to upload them into your account as they do not meet the opt-in standard.
You can still establish third-party cooperations for so-called "list rentals." To make this work, you have to create partnership emails. Let's say you are selling books for kids, and you decide to partner with another company that sells toys for children in the same age range. You can both create a combined offer and send it individually to your own list of contacts. These types of cross-promotions are pretty common in email marketing. Companies then share the leads between them, generally improving their return of investment and creating win-win situations. Still, these sorts of campaigns should be integrated with caution in your overall strategy. When implemented too often, they risk becoming less relevant and probably confusing for your own clients, leading to high unsubscribe rates or increased spam complaints.
Opt-out is not an option.
Offering people the possibility to opt out if they do not wish to hear from your brand in the future is against privacy and data regulations and would only harm your reputation.
To be 100% GDPR compliant, you need to obtain explicit consent for marketing communication. We recommend putting a Double-Opt-In verification system in place for your emailing campaigns. This way, you will send a confirmation mail to each new subscriber verifying the consent by allowing him/her to click the link included in the email. This represents the safest version to use and offers the highest protection for marketers. Of course, there are some debates about the Double-Opt-In as it tends to reduce the number of actual subscriptions you'll get in the end. Still, the good news is that marketing databases built this way generate about three times more clicks than any single opt-in subscribers list.
Unsubscribing should be easy but memorable.
Unsubscribing should not be difficult at all. It should actually be the easiest and fastest process ever. Try to avoid asking for additional data and do not add unnecessary steps to the process.
With email etiquette changing a lot over the last ten years as most employees nowadays are Millenials replacing Baby Boomers, you can try switching from formal to fun. Who knows? Maybe you won't lose them after all and get a chance to win at least part of your contacts back. The choice is yours as you best know your audience, but if you think it's suitable, you can try new versions of sign-offs. Here are some ideas to start with:
G2G, bye!
Peace out
May the Force be with you.
Bye-bye, butterfly
See you soon, baboon
Tag, you're it
Are you still reading this?
Treat your database as a living organism.
Lots of companies are focusing on collecting the data. Still, very few are constantly investing their time and energy to maintain the lists.
As you know, while running campaigns, you may register two types of bounces: soft and hard. The soft ones happen when the user's email box is full, his server is down, or the email is too large. On the other hand, the hard bounce appears when the email address or the domain name does not exist, or the server has blocked the delivery. As 30% of the email addresses change every year, sending communication relatively often and having a real-time validation system in place will help you clean your database and periodically remove the hard bounces from your lists. This sort of hygiene improves your reputation and increases your chances to convert.
May the Force be with you! See you soon, baboon!
---
Share