Pinterest is the social discovery channel that reinvented the way we search for things online.
While Google usually displays the search results as a list of short descriptions based on your query, Pinterest offers visual representations of what you are looking for. Using imagery instead of text allows you to decide faster what's relevant without needing to click on each result to see if it's helpful or not.
Pinterest transformed the way we select and collect ideas.
Instead of using bookmarks or favorites on your browser to save things for later, you create individual or group boards on Pinterest and keep your discoveries properly categorized in secret, shared, or public collections.
Pinterest also raised the bar of images used on the web.
People now expect high-quality photographs while on the platform, so it's better to avoid working with stock imagery and create instead unique and relevant visuals that can inspire.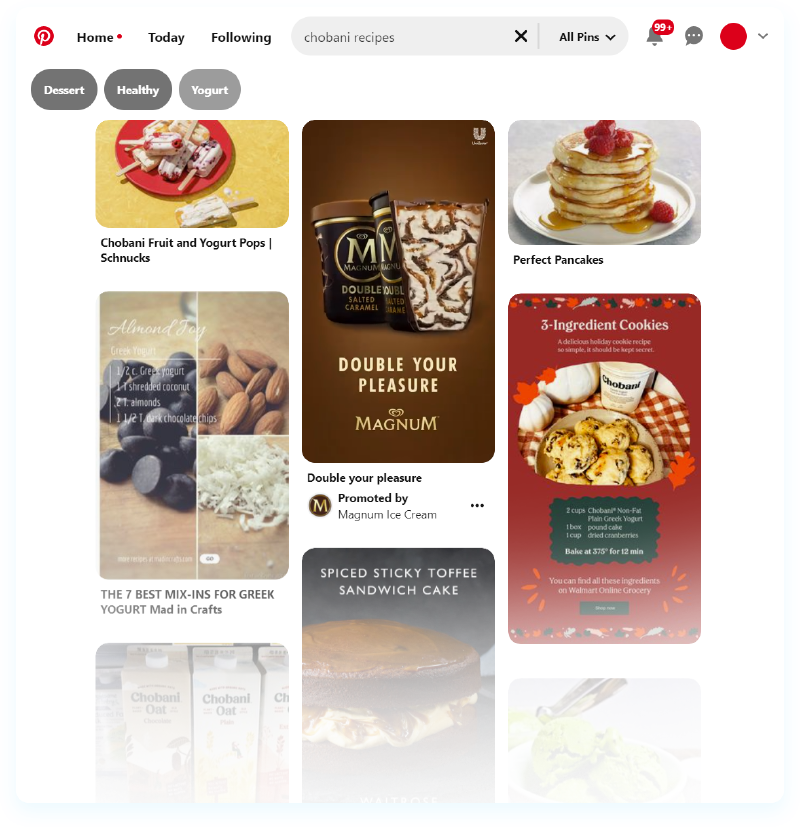 Who's on Pinterest, and why?
80% of all Pinterest users are women, usually looking for ideas when planning different events. It may look like the audience is very niched, but in reality, as the platform grows, there is also a diversification of its database. Let's have an in-depth look at some statistics.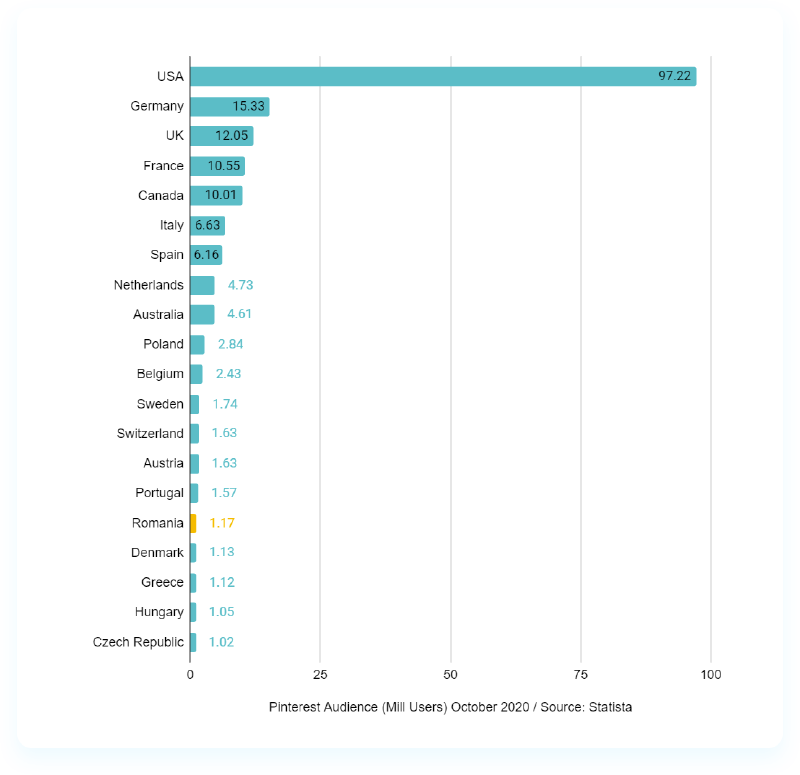 As reported by Hootsuite in a study, they recently published:
85% of women use the platform to plan life moments
43% wish to get their ideal home within the next five years
58% say it helps them make buying decisions
and 52% use Pinterest to look for inspirational food & drinks recipes.
On the other hand, men use Pinterest to find new products while mainly surfing the Tech, Fashion, Architecture, Cars, Motorcycles, and Fitness categories. Dads are three times more active on the platform than any other men as they tend to return more often to look for healthy recipes or find and share ideas for DIY projects.
How to use Pinterest for marketing?
Pinterest is the right place for exchanging ideas.
Here you can showcase various ways to use your products, helping your followers see and understand their broader potential.
A great example of how to do this is the Krylon Yard Sale campaign, which is probably one of the most memorable campaigns that integrated Pinterest into the mix.
Pinterest can help you attract more visitors to your webpage.
Focus on creating high-quality visuals that are Pinterest friendly and use Rich Pins when it makes sense to promote your content, based on your goals, to millions of monthly active users.
Go into details
Due to the segmentation available on Pinterest, you can dig deep and deliver high volumes of valuable pinned content to your audience. Usually, that's not easy to organize on social media without alienating your prospects. Fortunately, things are different on Pinterest. When using the platform, people generally tend to follow boards rather than companies or brands. This enables you to be as specific as you want when treating a particular topic and allows you to share unlimited amounts of suggestions and proposals.
Use Pinterest for testing and content planning.
Pinterest is at the forefront of new trends and interests, giving you a fantastic opportunity to experiment with new ideas before including them in your strategy. Even when you do not intend to market on Pinterest actively, you can still leverage it to research and discover what people look for so you can better plan your future content.
Pinterest drives Sales
It has more e-commerce potential than any other social network because its users are already in the mood to buy something when searching on Pinterest. In contrast, people on Facebook are more likely to look for entertainment online.
Trendy Pinterest topics to dig deep in 2021
To make the lives of content creators and advertisers easier, Pinterest periodically publishes reports on subjects relevant to its users, helping you to better plan your Pinterest marketing strategies in particular and your content marketing strategies in general. Here are some trends to consider for the year to come.
La Vida 90's
Nowadays, nostalgia takes the shape of the 90s. Millennials and Generation Z search for Pinterest references while looking for fashion, makeup, or electronic gadgets. "Grunge" appears to be the main keyword and the new definition of "being cool."
No gender agenda
More people are inclined to go for gender-neutral options for both everyday needs and special occasions. Celebrating diversity, fairness, and inclusivity are hot topics during these times.
Conscious consumption
There is a shift toward using fewer, more sustainable things and keeping an eye on waste. Upcycled Home Decor and DIY Decorations are just a few examples of searches that increased in volume in the last period and continue to register positive trends.
Home is where the office is and maybe where your gym is
More and more things happen at home due to pandemics, opening opportunities for those acting in athleisure, delivery services, and home decor.
The world on a plate
People try to have new culinary adventures even if they travel less. Macedonian meals, Filipino desserts, Arabic treats, and African recipes are on the top of the preferences of those looking for inspiration on Pinterest.
Spoiled pets
Pet pampering is reaching all-time highs, according to the platform.
Find the balance and re-wild
There is a particular need to look for solutions that help with avoiding digital fatigue. People feel the urge to escape from the "sitting culture" and search for outdoor hobbies that make them happy.
How things work on Pinterest
Let's have a look at how the Pinterest algorithm works. First, when you search for something on Pinterest, the Smart Feed Worker ranks the published content for you. Next, it sorts out Pins from users you follow, related ideas, and Pins corresponding to your lists of interests and scores them all for further segmentation into new relevant pools. Finally, the Smart Feed Content Generator extracts the provided selection and decides the quantity, arrangement, and composition to be displayed, adding it to the Feed Chunk. In the end, the Smart Feed Service chooses a mix of Pins from the Feed Chunk and blends it with a set of Pins you previously saw to generate your new Pinterest Home Feed.
For getting better exposer, you need to upload great descriptives and unique imagery content. You will also need to be patient as a large portion of the activity on Pinterest is latent, happening months after the original Pins occur.
In most cases, there is a gap between the moment people select the information and the one they come to sort it out. People tend to get back to their boards when they nearer the idea of buying something, therefore needing their collections to inspire them.
Why it's worth having a business account
A business account will offer you access to many extra features and tools, including widgets, advertising, and Pinterest analytic insights.
It allows you to use rich pins for more exposure and better conversions. There are several types of rich pins you can choose from based on the type of content you create and the type of business you develop.
You can select Articles Rich Pins for your blog posts and add extra information to your content on Pinterest, letting people know the author's name while also displaying a summary as your site defines it.
If you are dealing with food products or have a blog where you publish recipes, you might want to include Recipe Rich Pins as they will allow displaying the list of ingredients, cooking times, and the number of portions for a complete description.
For retailers and e-commerce companies, the Product Rich Pins are of significant help. They include price, inventory status, and "where to buy" information. To sell directly on Pinterest, you may also need to integrate the Pinterest shopping feature.
When working with Rich Pins, you have to choose carefully as only one sort can be applied to each piece of content in part.
The setup is not entirely complicated, but it needs some technical abilities as different codes are to be integrated on your site for the features to work.
Advertising on Pinterest
As with other Social Media platforms, you may have to invest in Pinterest ads if you want to build brand awareness, increase traffic to your content on Pinterest or other destinations outside the platform, or if you intend to get more conversions on your website.
Certain features and ad formats are available only via cooperation with approved marketing partners. Pinterest periodically updates its list for you to check it. There are just some options available in Europe right now, and they are located in the UK, Germany, Ireland, and Spain.
---
Share